People and Professionals across the country talk about
their experiences with the evopen and evoOTware.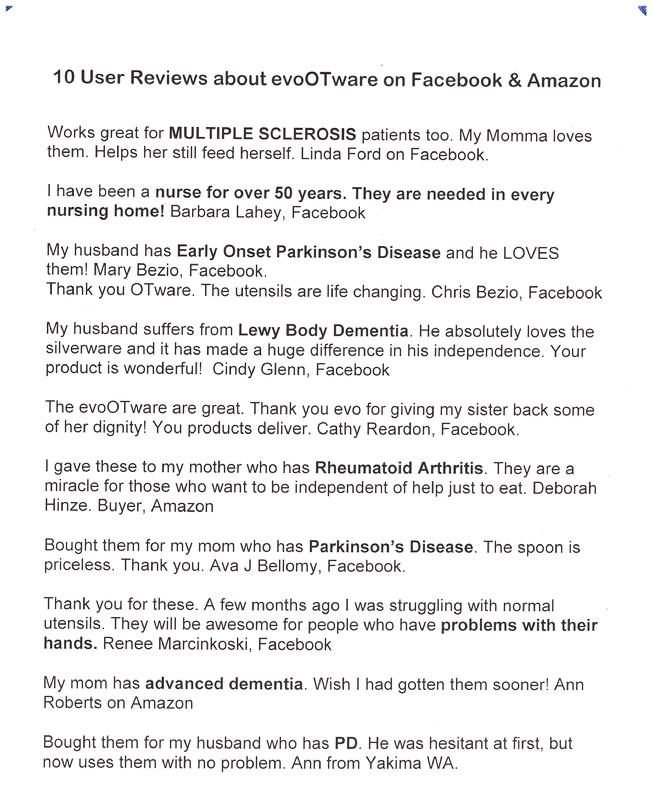 rom buyers and users of the product, evoOtware. A proud inventor.
Thank you for your time in reading some of the testimoniials. evoOTware are unique. evo.pen testimonials follow...
Of all the writing devices currently on the market, I believe the evo.pen is the most unique, affordable and most intelligently designed for adaptive use."
Ms. Mary Benbow, MS, OTR, La Jolla, CA. ...Author of the Chapter "Principles and Practices of Teaching Handwriting" in the Mosby Medical Text, Hand Function and the Child.



"An evaluation of this product by a panel of health care professionals, consumers and foundation staff found this wide grip pen fits snugly in the palm of the hand and is contoured to the shape of the fingers, which makes it easier to use."
Jerry G. Langley, Chairman, Arthritis Foundation, Atlanta, Georgia...the evo.pen was the first pen to be awarded a Commendation from the Arthritis Foundation.

Hi Mr. Rubin.

I wanted to send you a letter of thanks for sending me some sample pens. We have had several patients that were able to benefit from your ergonomic pens and had improvement in both comfort and stamina.

Dr. Lifchez and I are grateful in your assistance in the care for our patients.

Warm Regards, Monica D. Chetelat, PA-C

Johns Hopkins University, Department of Plastic Surgery



My evo.pen is the most comfortable pen I've ever encountered and I don't have arthritis."
Janice Eidus, Novelist, New York, NY

"My patients love them!" Ann Lang, MA, OTR, CHT New York, NY

"The evo.pen is a viable alternative to writing with the standard stick pen. It is designed to fit in the natural closing grip of the hand."
Journal of the American Occupational Therapy Association.

"This ergonomic gripping shape makes it easier to write, and is ideal for persons with arthritis or limited mobility."
Physical Therapy, The Magazine of the American Physical Therapy Association

"I dare to think that at last I have a writing instrument I can use." Louine King, Architect, Avon, CT.

"The evo.pen is helping many people with differerent kinds of grasping problems." Greg Spieler, Rheumatogy Associates. Hospital for Joint Diseases, NY

"They are wonderful!! The degree of comfort in writing is readily apparent." Pierre Rioux, M.D. Minot, N.D.

"A child does not need to be taught how to hold it or write with it as they do with a regular writing instrument." Melinda Kanrer-Levy, Executive Director, Marin Days Schools, San Rafael, CA

"As a therpist, I like the way the pen helps to put the kids' hands in a better position for developing writing skills. It also helps immensely thath the kids find them appealing and fun." Carol Loikith, MA, OTR...Randolph NJ & President of OT Ideas

"The pen is helping many people with different kinds of grasping problems."
Greg Spieler, Rheumatology Associates, Hospital For Joint Diseases, NY

"I suffer from Carpel Tunnel Syndrome and received one of your pens. They are great!"
Ms. Evelyn Johnson East Orange NJ

Getting a grip...evo.OTware
Website powered by Network Solutions®