This unsolicited review is from: Adaptive Eating Utensils: Evo OT Ware Easy Grip Utensils My wife has a disabling malady for years. Couldn't hold a spoon, fork or any utensil. We saw utensils and thought we'd try them. We are amazed. They work great. For the first time in several years she doesn't need someone to feed her. She now is using two (fork and spoon) really well and she's trying to get more proficient with the knife. The "flex" ability makes them perfect. Thank you EVO OT, my wife is now having a meal without being feed. I'm ordering an extra set for travel and me or leaving in night table when she can't come to kitchen dining table. When she was in hospital they didn't have anything like these...don't get it?
She cried with joy after she first feed herself with her EVO OT utensils. I like using them and find myself using them and I don't need them but they are appeal as a "comfort" tool. What took so long? GREAT INVENTION.
| | |
| --- | --- |
| Please click on "why it works" on your right. The one minute film shows the use of the revolutionary gripping utensils. It shows many of the new & natural ways the hand can hold a utensil. Independence for some, release for others. Thank you. | Why evoOTware works" |
| | | |
| --- | --- | --- |
| evoOTware. Lefty's 23O04L | The "paypal" Button just to the right will get you Lefty OTware. | |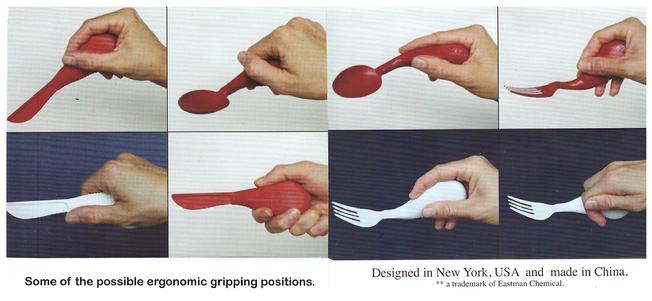 Just o few of the possble gripping possibilies.
Two testimonials from caregivers. Helping those with Parkinson's Disease & Lewy Body Dimentia. Many others.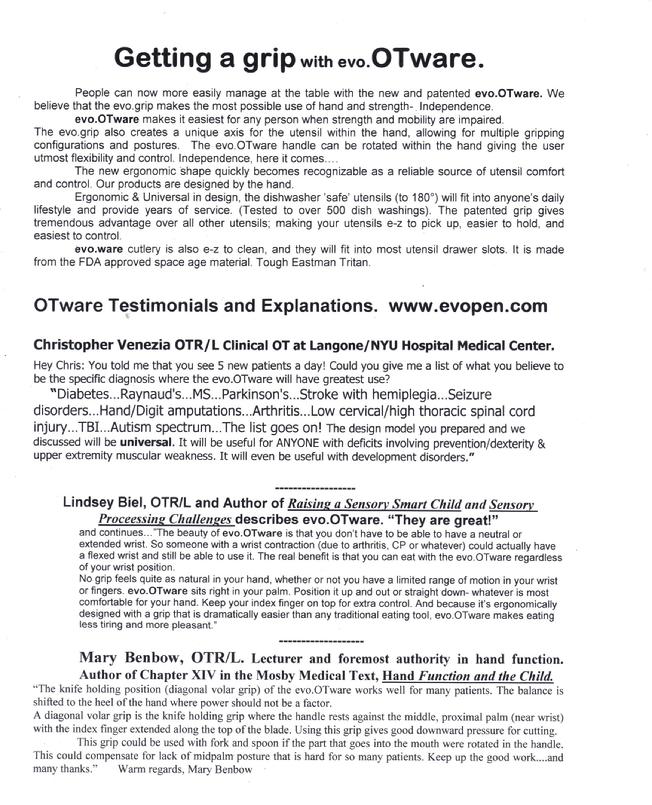 Some thoughts about evo.OTware by OT's.
| | |
| --- | --- |
| The letter above explains in detail why the evo.pen works. Conceptually, Ms. Benbow explains the value and validity of inside the hand gripping. By extension, the same explanation can be attributed to the evoOtware. Providing a valid alternative to the status quo. A little miracle for some... | |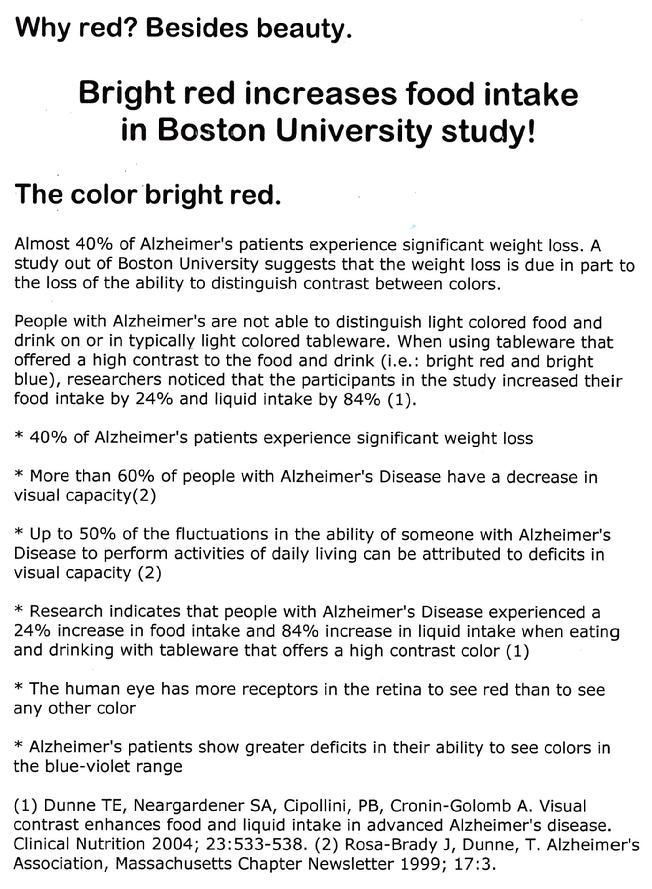 Boston University Study...24% increased food consumption for RED.
Getting a grip...evo.OTware
Website powered by Network Solutions®